"Spiritual Art Advisory : Part Deux" a group show of 23 NOVEMBER 20 - DECEMBER 18. Saturday at Greenpoint Terminal Gallery, curated by Sarah Potter and Caroline Larsen. 
This is the second version of the show with all new artists who created work based on the Major Arcana of the Tarot. Up from November 20 until December 18th.With: Anders Oinonen, Eric Hibit, Rebeca Raney, Meg Lipke, Natalie WadlingtonMarta Lee, Kristen Schiele, Carolyn Salas, Rachel Hayden, JJ Manford, Brent OwensNatalie Baxter, Christina Nicodema, Alyssa Klauer, Paige Mehrer, Theo A. Rosenblum & Chelsea Seltzer, Chris Bogia, Emily Marie Miller, Sarah Alice Moran, Calli Moore, Laura Watters

Intertwined, curated by Alex Allenchey
103 Allen Street, Lower East Side
2021 Opening Reception: Thursday, November 11: 6 - 8pm
With Beverly Acha, Maria Calandra, Graham Collins, E.E Ikeler, Nora Maité Nieves, Ernesto Renda, Victoria Roth, and Alessandro Teoldi
Maria Calandra: Elizabeth Murray 
Solo show at HEROES GALLERY opening November 4 until December 18. I am honored that works by my hero Elizabeth Murray will be included as well. Heroes Gallery's mission is to curate contemporary artists alongside their aesthetic and conceptual predecessors, tracing genealogies through time.
162 Allen Street, New York, NY 10002
Pencil in the Studio drawings paired with a handful of the artists I drew. Opening October 7, 2021
Solo Exhibition: A Walk in the Wild September 17th - October 16th       STEVE TURNER GALLERY
January 04 - January 30, 2021La MaMa Galleria | 47 Great Jones St.
Galleria Open: Friday & Saturday; 12pm–6pm; or by private appointment
Presented by La MaMa Galleria
Curated by Sam Gordon
9 Herkimer Place / Bill Jenkins · 321 Gallery / Jenni Crain · A.I.R. Gallery / Rosemary Mayer · CLEARING / Zak Kitnick · Deli Gallery / Adrianne Rubenstein · Elijah Wheat Showroom / Sara Maria Salamone · Zoe Fisher Projects / Elisabeth Kley, Matt Paweski · Fortnight Institute / Peter Shear · Gloria's / Leah Dixon · Higher Pictures Generation / K8 Hardy, D'Angelo Lovell Williams · Interstate Projects / Joel Dean · JAG Projects / Jessie Stead · Jenkins Johnson Gallery / Ming Smith · Luhring Augustine / Charles Atlas · Microscope Gallery / Peggy Ahwesh · Minus Space / Michelle Grabner · Mrs. / Tracy Miller · Orgy Park / Jacob Robichaux · Ortega y Gasset Projects / Frederick Weston · Pioneer Works / LJ Roberts · Sardine / Maria Calandra · Soloway / Hadi Fallahpisheh, Phoebe d'Heurle · Songs for Presidents / J. Stoner Blackwell, Lizzie Scott · Underdonk / Leilah Babirye · Welancora / Helen Evans Ramsaran · ZAK's / Polly Apfelbaum, Madeline Hollander
BEASTS LIKE ME: BRONX ART SPACE October 22 -- November 21, 2020 
SARDINE is pleased to present 'The World is Ending' featuring artwork by Maria Calandra, Vincent Como, Ryan Falkowitz, Sophia Frydman, Brendan Loper, Karen Schifano, and Lizzie Wright organized by Jon Lutz. 'The World is Ending' opens with a reception on Saturday, February 29 from 6 to 9 pm and will run through April 5, 2020. 
AN EPHEMERAL AFTERNOON AT GRIFTER ORGANIZED BY ALICIA GIBSON. I WILL HAVE A NEW ZINE AND SOME DRAWINGS AVAILABLE. DECEMBER 15TH FROM 3-8. 
FOURTEEN30 CONTEMPORARY




http://fourteen30.com/index.cfm








Yevgeniya Baras

Katherine Bradford
Maria Calandra
Srijon Chowdhury
Gracie DeVito
Rainen Knecht
Sally Saul
Anna Schachinger
Storm Tharp
Geetha Thurairajah
Guimi You




June 30 – August 10, 2019

Opening Sunday June 30, 11am - 1pm




co-organized by Adrianne Rubenstein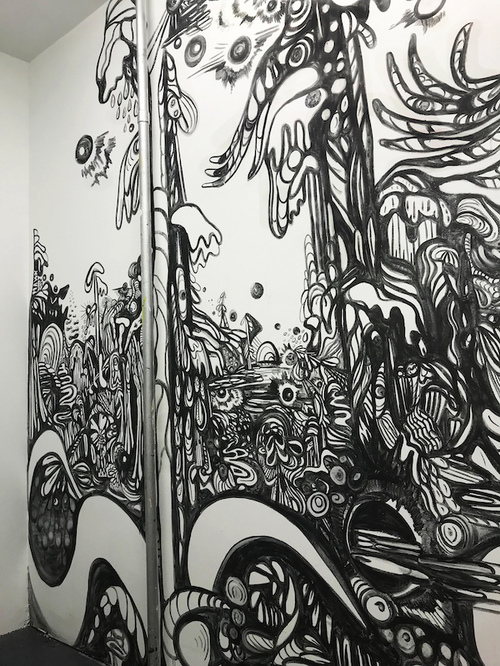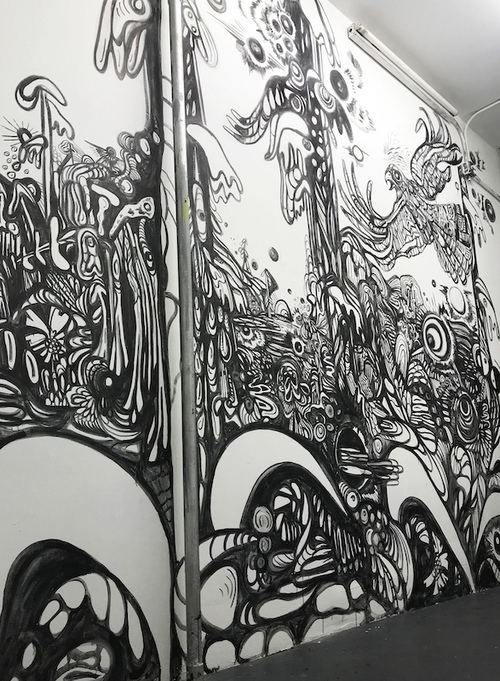 ESSEX FLOWERS WALL MURAL
DOOR #3
Maria Calandra, Billy Grant, Michael Pool
Curated by Melissa Brown
May 24 - June 23, 2019
Opening Reception: Friday, May 24, 7-9PM
EM DASH
Maria Calandra, Jay Gaskill and Erik den Breejen
at Ampersand Gallery in Portland, OR
Opening Febuary 16th and running through March 24th
Group Show December 8th - January 13th
Meet the Parents at Essex Flowers Gallery
Klaus von Nichtssagend Gallery
July 13 - August 18, 2018
Opening Reception: July 13, 2018 6-8 pm
Andrea Bergart, Nancy Brooks Brody, Jared Buckhiester, Maria Calandra, Tova Carlin, Marlene Frontera, Erick Alejandro Hernández, Juliet Jacobson, Wayne Koestenbaum, Jennifer J. Lee, Mike Olin, Erika Ranee, Harriet Salmon, Kerry Schuss, Lizzie Scott, Louise Sheldon, Clintel Steed, Stephen Truax, Peixuan Wang, Joshua Caleb Weibley, Rachel Eulena Williams, Kalina Winters, Phyllis Yao
New York Times Review
https://www.nytimes.com/2018/08/08/arts/design/what-to-see-in-new-york-art-galleries-this-week.html?rref=collection%2Fsectioncollection%2Fdesign&action=click&contentCollection=design®ion=stream&module=stream_unit&version=latest&contentPlacement=3&pgtype=sectionfront
MURAL INSTALLATION AT THE WYTHE HOTEL
WEEKEND at MINDY SOLOMON curated by EZRA JOHNSON
DECEMBER 2 – JANUARY 13, 2018
CURATED BY EZRA JOHNSON
BOTH GALLERIES
MARIA CALANDRA, ANDY CROSS, JULES DE BALINCOURT, ERIK DEN BREEJEN, FRANKLIN EVANS, SUE HAVENS, JAMES HYDE, SAM JABLON, EZRA JOHNSON, DOMINIQUE LABAUVIE, DAVID MCBRIDE, EMILY NOELLE LAMBERT, KRISTEN SCHIELE, JERED SPRECHER, WENDY WHITE